Tax deductions and credits for contractors
Posted on February 06, 2020
If you're a contractor, you know how quickly business expenses add up.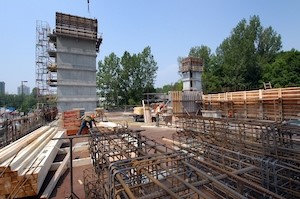 Luckily, there are deductions you can take advantage of to reduce your taxable income. You might also qualify for tax credits, which reduce the amount of tax you owe.
To support your expense claims, make sure you keep your receipts. The CRA won't accept your bank or credit card statements to justify deductible business expenses — you need an itemized receipt that corresponds with the transaction.  
As a contractor, you can deduct everything from union dues to tools and supplies for your business. 
We've compiled a list of tax deductions and credits for contractors below.
Accounting, bookkeeping and tax preparation fees
Are you paying for accounting, bookkeeping or tax preparation services? You can deduct the cost.
Bad debts
If you have unpaid invoices from a customer and were unable to collect them in a year, you may be able to claim them. You'll need to prove you've taken every action possible to collect the debt. Keep a copy of invoices, letters, emails and other correspondence with the customer.  
Business advertising 
If you're advertising your business online, or in Canadian media outlets (including radio, television and print), you can deduct the cost. Promotional materials like business cards and pamphlets can also be deducted.
Meals and entertainment
You can deduct 50% of meal and entertainment costs if you're meeting with clients.
Office space
Do you use a home office? If it's a space that's only used for business, you can deduct a portion of your home office expenses. This includes utilities, house insurance, repairs, property taxes and mortgage interest.
To claim this deduction, you'll need to calculate the percentage of your home that's used for business.
Divide the area of your office by the total area of your house. If your house is 1,600 square feet, and your office is 200 square feet, 8% of your home is used for business purposes. You can deduct 8% of your home office expenses.
Supplies, tools and office expenses
You can claim supplies and tools you purchased to perform your work, like a power drill, hammer, measuring tape, paint or packing supplies.
You can also deduct the cost of small office supplies, including pens, paper clips, stationary and stamps. 
Union dues and membership fees 
Are you part of a union? Do you belong to a construction organization? Yearly union dues or fees for memberships can be claimed. 
Vehicle expenses
If you're a contractor, there's a good chance you spend a lot of time in your car, driving to-and-from work sites, meeting with clients and buying tools and materials.
You can deduct a portion of your licence and registration fees, fuel and oil costs, insurance, maintenance and repairs and leasing costs.
To claim this deduction, you need to keep a mileage log, which is a record of your business travel. Update your mileage log regularly to avoid CRA scrutiny in the event of an audit. 
It's simple to calculate your vehicle deduction if you keep a mileage log. If your odometer reading at the end of the tax year is 50,000 km, and you know 35,000 km was for business use, your car was used to incur business income 70% of the time. That means you can deduct 70% of your vehicle expenses for the year.
Apprenticeship job creation tax credit
If you own a small business that has hired an apprentice, you can claim 10% of their wages, up to a maximum of $2,000 per eligible employee.
An eligible apprentice is someone who works for you in a qualifying trade in the first two years of their field of expertise. Any unused credit can be carried back three years and carried forward 20 years (to help offset larger tax bills). 
Input tax credit
If your small business claims goods and services tax/harmonized sales tax (GST/HST), you may be able to recover GST/HST paid or payable on purchases and expenses related to your business, by claiming input tax credits.
If you own a business and buy supplies for it, you can claim the entire amount of GST or HST paid for those items.
Investment credit
Did you buy new machinery or equipment for your business? You may be able to claim the investment tax credit. You can also claim unused investment credits from the previous 20 years on your current year's taxes.
This article was written by Silvia Pikal, a Communications Specialist for FBC, Canada's small business tax specialist. She brings her journalism background to FBC, creating easy-to-understand articles, eBooks and webinars for busy business owners on fbc.ca/learn. 
To get in touch with one of FBC's tax specialists, visit www.fbc.ca or call 1-800-265-1002.