Construction begins on $104M development near Pearson
Posted on October 05, 2020
Construction is officially underway on a major mixed-use business complex near Pearson Airport in Toronto.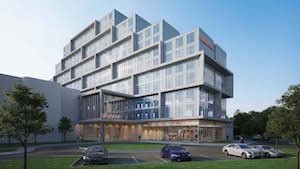 SAMM Developments announced the beginning of construction on the Regal Plaza Corporate Centre, a $104-million, 335,650 square foot mixed-use business complex at 600 Dixon Road. 
The complex, which will be located near highways 401, 427 and 27, will consist of an 11-storey above-grade Staybridge Suites hotel and a commercial condo centre, with two underground parking levels and an atrium connecting it with the existing hotel.
Completion is slated for spring 2023.
"Regal Plaza is an example of our company's ongoing commitment to innovative initiatives that improve local markets and economies," said Ali Ackman, SAMM Developments president. "This is an important area of the city as far as business is concerned. Proximity to the highways and airport is ideal. And with commercial, retail, restaurants and three floors of corporate condominium office space in the building, tenants will have accommodations, eateries and shopping facilities all in one location."
"The new atrium will feature skylights and is designed to resemble an indoor courtyard with seating areas and greenery to accommodate exhibits and business presentations," said project director Mark Robertson. "On the ground floor, the café and retail shops will serve tenants and guests of both hotels; the new Staybridge Suites, the InterContinental Hotels & Resorts upscale extended-stay brand, and the existing Holiday Inn brand hotel. Levels 2, 3 and 4 will encompass a total leasing space of 64,820 square feet of commercial office condos, with 750 square foot modules that can be combined to create larger spaces. On the penthouse level, a banquet hall will be available for large gatherings."
The Regal Plaza Corporate Centre project team includes architects IBI Group; engineers Cole Engineering, LEA Consulting, Sigmund Soudack and United Engineering; construction manager, Gillam Group; interior designer, Chase Architect; and landscape architect, Ferris & Associates.   
The corporate centre is being constructed to meet the TIER-1 Toronto Green Standard.