Facedrive receives $2.5M funding from province
Posted on February 22, 2021
The provincial government has handed Facedrive, an Ontario developer of wearable COVID-19 contact-tracing technology, a funding boost of $2.5 million.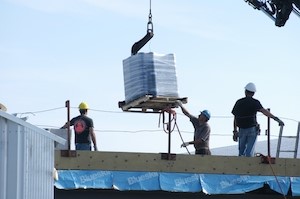 The government made the announcement on February 18, and the company says it will use the funding to manufacture about 150,000 of its contact-tracing devices and to create about 70 new jobs, including software, firmware and hardware engineers and machine learning specialists.
The funding was provided to the company through the $50-million Ontario Together Fund, which helps businesses retool their operations to produce PPE and develop technology-driven solutions and services for businesses to reopen safely.
"In our fight against COVID-19, Ontario is continuing to support companies like Facedrive that are developing the innovative technology that adds new layers of defence against this global pandemic," said Vic Fedeli, Minister of Economic Development, Job Creation and Trade. "Through the Ontario Together Fund, we will continue to make sure that companies like Facedrive have the resources they need to supply emergency products and innovative solutions during these challenging times, while creating skilled jobs for our province."
Scarborough-based Facedrive developed the TraceSCAN solution, which can track staff exposure to COVID-19 without GPS information, in partnership with the University of Waterloo. 
Workers simply wear the device and the wearable technology will communicate with others within a workplace environment. If users are less than six feet apart, the device beeps to alert the users. If anyone in the working premises reports COVID-19 positive, HR or health and safety officials can log in to the online reporting dashboard and see who they have been in contact with and their risk level, then send an exposure notification. Contact tracing will be made simple with all of the close proximity contact having been recorded.
The technology is designed to help mitigate the spread of COVID-19 for workplaces and settings where smartphone use is limited or prohibited, such as airlines, schools, construction sites, and long-term care homes. It will add another layer of safety and protection through identification and isolation of new COVID-19 cases, tracing back the interactions and helping to stop the contamination.
TraceSCAN has already been deployed in multiple pilot projects, leading to the successful adoption of the technology in real-world settings. The Labourers International Union of North America was among the first construction organizations to endorse and adopt the technology. Other organizations using TraceSCAN include Air Canada and Waywayseecappo First Nation in Manitoba.
"The continued support of the Ontario Government is very valuable to us at Facedrive, and we are humbled to receive this support facilitating our work to fight COVID-19," said Facedrive chairman and CEO Sayan Navaratnam. "We are looking forward to working side by side with government institutions in our joint mission to create safe environments for our communities, restart our economy and get workers back on the job. The Ontario Together Fund will be instrumental in helping us grow production volumes, invest in top talent, create jobs and ultimately establish TraceSCAN as a global leader and household name for contact tracing."
Facedrive Inc. was founded in 2016, and delivers a range of products and services, including ride sharing, food delivery, wearable health tech solutions, electric vehicle subscriptions, and a social networking platform.