Sudbury invested $100M in construction in 2020
Posted on February 23, 2021
The City of Greater Sudbury funded nearly $100 million in major construction projects in 2020.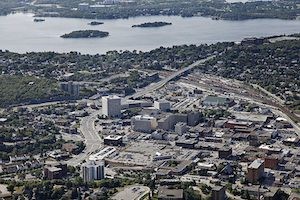 The city announced on February 19 that it made a total investment of $98.7 million in its roads, water, sewer and transportation networks, bridges and large culverts.
"We continue to invest heavily in roads to ensure economic and future growth, and improve quality of life for residents," said Mayor Brian Bigger. "This city council has recognized the importance of road quality and active transportation in our community, and has made record investments to help get us back on track. Whether it be through road rehabilitation, or more cycling routes and sidewalks, the health and safety of our community benefits long-term from these investments."
Some of the major projects completed in 2020 included:
Widening of Municipal Road 35 to four lanes from Notre Dame Street East to Notre Dame Street West in Azilda. The project's next phase includes road widening from Notre Dame West to Highway 144 in Chelmsford and will be completed by the end of the 2021 construction season.
Adding 3.2 kilometres of separated bike lanes on Notre Dame Avenue between Wilma Street and Lasalle Boulevard.
Daylighting 150 metres of Junction Creek, which involved opening a buried section of the creek and restoring it to a more natural condition to increase habitat for creek species.
Work on other infrastructure projects—such as the Birch Street (Azilda) Culvert Replacement Project and the Lively Sewer Upgrades—continues through the winter months.
A by-the-numbers look at some of the city's construction projects includes
rehabilitated 38.9 lane kilometres of roadway in 18 locations
installed 2,600 metres of new sidewalk in three locations
preformed 4,116 metres of sanitary lining in 51 locations
added 1,090 metres of water main lining at five locations
replaced 2,980 metres of water main at seven locations
replaced 560 metres of sanitary and storm sewer in two locations
rehabilitated two bridges and replaced six others
installed 3,200 metres of new, dedicated bike lanes
installed 3,515 metres of guiderail in six locations
installed 13,500 metres of rumble strips in five locations
added 13,250 metres of paved shoulders in three locations
completed 92,000 square metres of large asphalt patches
resurfaced 25 km with surface treatment at 32 locations
upgraded eight wells
completed two flood management projects and added 500 metres of gravel walking paths