CBA model is flawed: Cardus report
Posted on July 29, 2021
Community Benefits Agreements (CBAs) can be valuable tools for advancing social causes, but not until they're properly defined and implemented, says a new report by think tank Cardus.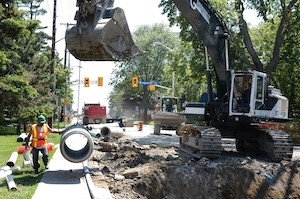 The report, Community Benefits Agreements: Toward a Fair, Open, and Inclusive Framework for Canada, looks at the use and abuse of CBAs across the country. Its researchers concluded that CBAs can be a useful way to maximize the impact of Canada's post-pandemic infrastructure construction boom and economic recovery, but not before the very concept of CBAs themselves are properly defined, and their value proven though measured results.
The report lists a number of ways in which CBAs have been used federally and in British Columbia and Ontario—including on the Eglinton Crosstown LRT project and the Gordie Howe International Bridge project—but argues in the latter case especially that the outcomes of the agreements have yet to be fully realized.
It goes on to say that in some cases, CBA can even be exclusionary tools. For example, those that specify workforce diversity requirements almost make it mandatory that companies be signatory to union agreements so that they may recruit from as wide and as diverse a labour pool as possible.
"Non- or alternative union employers use direct hire to obtain employees—that is, when they need new workers, they go out and recruit them, which takes time and effort," says the report.Additionally, the authors point to compliance costs which tend to be greater for smaller companies—the majority of local builders—as, "specialized recruitment places a heavier burden on their operations, productivity, and profitability."
"In Ontario, non-union and independent-union employers represent at least 70 percent of construction employers. Their interests in infrastructure-improvement projects are every bit as relevant as those of their building trade union competitors and deserve to be taken into account."
"Governments have been jumping onto the CBA bandwagon without taking the time to ensure that they are fair, open, transparent and effective. The result is that they aren't achieving their goals, and are reducing diversity in the labour market," says Brian Dijkema, Cardus's vice-president of external relations. "That's unfair to workers, drives up the cost of construction by a conservatively estimated 15 percent, and worse, fails to deliver for the people CBAs are supposed to help."
The Canadian Construction Association has been among those groups that is concerned about the use of CBAs. CCA has argued for years that construction companies already create significant good in their communities through various means such as supporting charitable causes.
"The implication seems to be that community benefits exist only when a CBA is in place," says Cardus executive vice-president Ray Pennings. "That's not the case. Companies do a lot of good without the requirement to do so under a CBA. These agreements are not always needed."
The report concludes that CBAs can be useful for helping to get community-wide benefits from construction projects only if governments adopt a fair, open and transparent CBA framework that includes such elements as:
genuine, broad consultation with government, developers, community, labour and industry,
standardized, fair, open and transparent procurement processes,
measurable goals that help determine CBA success or failure,
clear, achievable targets for things like job training and hiring,
longer term community benefits that last beyond the construction of any project, and
inclusivity that respects all human rights, labour models and union affiliations.