Link2Build webinar panelists discuss material price volatility, supply-chain challenges
Posted on June 18, 2021
Challenges associated with the COVID-19 pandemic, including changing consumer behaviours, as well as natural disasters across the United States and Canada, have combined to create supply chain havoc—and material price increases—across North America's construction markets.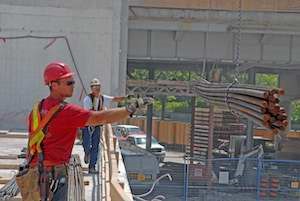 At a special Link2Build webinar on June 10, more than 300 participants heard firsthand from four panelists about their experiences with supply chain disruptions and material price increases, and their responses to each.
Moderator Martha George of the Grand Valley Construction Association opened the session by asking the panelists to speak a bit about their experiences with shortages and associated price increases of specific materials, and offer their ideas about why these issues were occurring.
First to speak was Wayne Ferguson, EllisDon's senior vice-president for Eastern Ontario and Quebec. His division manages about $400 million worth of construction annually. Ferguson said that his company is seeing delivery challenges of major products such as steel and wood, as well as underground PVC piping, Roxul insulation and drywall. He pointed to COVID as a major cause of slowdowns in manufacturing facilities, as well as the effects of the winter deep freeze in Texas, which has played havoc with the manufacturing of resin-based products. The longshoremen strike in Montreal's port further delayed material shipments to other parts of the country.
JC Leblanc, Business Development Hambro with Canam-Buildings, which is North America's largest steel fabricator, spoke about the extent to which the demand—and price—for steel has skyrocketed since the pandemic began.
"In November 2020, we were pricing steel projects at between $600 and $700 US per metric tonne. Now, the price is up to between $1,600 and $1,800 per metric tonne," he said. "The biggest reason for the increase is demand. COVID changed consumers' shopping patterns. People are buying online more than ever before, which is causing major retailers like Amazon, Costco and Walmart to build massive distribution centres to keep up with demand."
Leblanc said those handful of major companies are buying the majority of Canam's steel, which leaves everyone else fighting for what little product remains.
Curtis Boyce, director of operations with Modern Niagara Group, says he has seen the price for piping rise between 100 percent and 200 percent in the past year—largely due to the supply of resin products and the disaster in Texas last spring. Materials that the company normally depends on from overseas suppliers are also being delayed due to global shipping logistics such as sea container shortages.
"Normally we see one or two price increases per year in the materials we buy wholesale, now we see increases weekly, and on very short notice," he said. "We're doing our best to stay informed, and we're sharing information with our clients as soon as we get it so we can make the best-informed decisions for our projects."
Fred Janzen, the director of capital projects at Western University, said price and supply issues such as these have changed the way the university operates with its construction partners on its projects. In a typical year, the university tenders as many as 300 projects—10 to 12 of which are considered major projects. And while the lack of students on campus has made construction easier in some respects, the price and supply issues are forcing the university to look at its project budgets differently, to allow far greater project contingencies, and to consult with its partners routinely to solve unexpected challenges.
George asked how each party is handling these supply and pricing issues.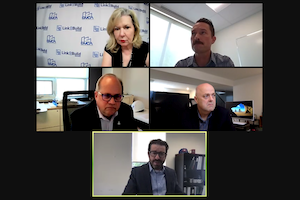 "Collaboration is key," said Ferguson. "We're doing everything we can to keep everyone up to speed as things change, and we're trying to buy materials in advance and store them on site as much as possible to insulate from further price increases. But that's not always possible. There's no one-size-fits-all solution for every project."
Ferguson added that bid-validity periods are becoming a hot topic. Asking a general contractor to carry a validity period of 60 or even 90 days in this current environment is very challenging, he said. EllisDon has had some success introducing price-escalation clauses into its bids, but when the company is asked to carry pricing risk, it's forced to guess at the size of the contingency it should add to its bid, which can be risky for the contractor and expensive for the owner.
Leblanc says Canam is pre-ordering product as much as it possibly can, but even that solution is imperfect since it depends on a project's final design being completed.
Boyce also said that Modern Niagara is doing as much as it can to make bulk orders in advance to mitigate schedule and price impacts, but that involves finding appropriate lay-down spaces for storage.
"So what are some best-practices you would pass on to help others manage similar challenges," George asked.
Janzen's message to buyers was to be nimble, and think of new and better ways to build the same project. His university for example, is looking at concrete-framed buildings as an alternative to steel or wood. It's not what the university would normally choose, but today's environment is far from normal.
Leblanc explained that working with the customer is key.
"We're not selling a widget that comes off the shelf," he said. "We're selling a process that can take months or even years to complete. We're trying to be as frank with our clients as possible. Get your process in order and your ducks in a row so that we can order what we need when we need it. The longer we wait, the more risk we assume."
Boyce echoed that comment, adding that creativity in options, solutions and materials, is critical. Ferguson also added that it's key to be flexible with clients so they understand the situation and can make educated decisions.
Finally, George asked how the panelists see these challenges evolving over the course of the remainder of 2021 and into 2022.
Boyce said that through consultations with his suppliers, he expects the disruptions and increases continue through the remainder of the year at least. Ferguson said he expected much the same thing, especially in the National Capital Region, given how hot Ottawa's construction market is at the moment. He added he's seeing wood futures coming down, but any de-escalation won't be quick.
Leblanc also said he sees no signs of slowdowns on the horizon. Canam has never been so busy and is booking work into late 2022 at the earliest now. He even suggested that the post-COVID recovery could be on par with the global construction boom seen immediately after the Second World War.
A complete recording of this session is available here.
Feature image: Construction worker on site (Ron de Vries Photography)
Screen capture by Link2Build