GoFor sees huge growth in 2020, more ahead in '21
Posted on March 03, 2021
Ottawa-based GoFor Industries, which provides last mile, on-demand and same-day delivery services in the construction sector, reported its year-end revenue growth for 2020.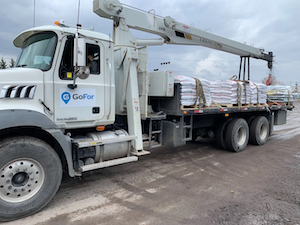 The company said it finished 2020 with a growth in revenue of more than 650 percent. In addition, it appointed several members to its leadership team, and expanded its services to 73 cities.
With global delivery patterns changing fundamentally due to the COVID-19 pandemic and the resultant shift in customer expectations for delivery, the company says is poised to see even further growth in 2021. It is forecasting to grow its customer base by 42 percent, increase the number of deliveries it makes in 2021 into the single-digit millions, and double its operating reach to more than 145 cities.
"Though 2020 was challenging in many ways, we are excited to have made significant strides and risen to the occasion to provide scalable, on-demand and same-day last mile delivery services across North America as we all experienced unprecedented disruptions to our known ways of life and business," said GoFor president and CEO Brad Rollo. "We don't expect to see customers' desire for fast delivery disappear. As retail purchasing patterns evolve, we look forward to further supporting businesses of all sizes in owning their last mile and truly delivering for their customers."
GoFor also established a partnership with Royale EV in 2020 with the aim of electrifying half of its fleet by 2025.
The firm's total corporate employee base grew by more than 240 percent in 2020, which included eight major leadership hires. It plans to more than double the number of corporate employees and expand its active driver pool to nearly 4,000 by 2022 — a 300-percent increase.
With GoFor's growth in new markets, expansion of its commercial customer base and the addition of thousands of new active drivers, GoFor projects that its revenue will grow by more than 400 percent in 2021, as the company strengthens its position as a scalable last mile delivery solution for businesses of all sizes.