MCAC Student Chapter Summit moves online
Posted on March 02, 2021
For the first time ever, the Mechanical Contractors Association of Canada (MCAC) is hosting its annual Student Chapter Summit in the virtual world.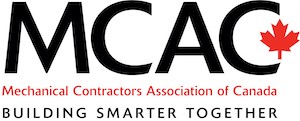 The event, which is scheduled for March 12, brings together mechanical engineering students, contractors and educators to explore opportunities and trends in the mechanical contracting sector. It normally involves dozens of students from across the country who convene for discussion about opportunities in the sector, tours of facilities, and networking opportunities with industry leaders.
"MCA Canada is committed to supporting the next generation of workers in the mechanical contracting sector, and this event continues to be an annual highlight for our association," said MCAC CEO Tania Johnston. "We have a great program and lineup of speakers, and we are excited to host students from across Canada, even in a virtual environment."
The COVID-19 pandemic has shortened the chapter summit to just one day, and moved it into the virtual world.
During the day, students will receive overview of career opportunities available in the mechanical contracting sector, as well as the important role the sector can play with respect to building performance. Attendees will also learn about the liquefied natural gas (LNG) export facility in Kitimat, British Columbia. Attendees will join the team members from LNG Canada and their prime contractor, JGC Flour JV, to learn more about the project and participate in a short 'Engineering Feat' hosted by the construction team from their site in Kitimat.
"Since its inception, the Student Chapter Summit has continued to grow in attendance and popularity," said Johnston. "We are extremely proud of this initiative, and excited to once again offer this great program and lineup of speakers. Although the pandemic is preventing us from holding an in-person summit this year, we are optimistic that the virtual format will allow even more students to take part."
MCA Canada's Student Chapter program encourages post-secondary institutions to get involved with their local mechanical contractors associations to share in networking opportunities and education events. The program is part of MCA Canada's commitment to supporting future employees of mechanical contracting firms, and the next generation of workers in the sector.