QEW-Glendale project to become Ontario's first DDI
Posted on March 04, 2021
Construction of Ontario's first diverging diamond interchange (DDI) could start soon.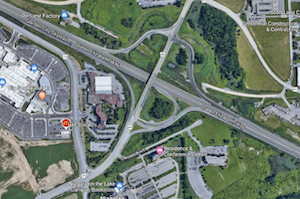 The Ministry of Transportation has awarded a contract of nearly $54 million to Markham's Brennan Paving and Construction Ltd., with design support from Morrison Hershfield to deploy the innovative traffic-circulation measure at the QEW overpass on Glendale Avenue in Niagara Region.
The ministry and the construction team are close to finalizing the detail design phase of the project. Once that is approved, construction should begin in the spring. The interchange is scheduled to be completed in November 2022, and the entire project finished by July 2023.
A DDI is a traffic-management solution that enables vehicles to merge on and off highways without crossing oncoming lanes of traffic. It shifts vehicles onto the left side of the road as they approach highway interchanges, and moves them back onto the right side of the road as they pass the interchange.
According to a project website created by the construction team, "the DDI improves performance by reducing vehicle conflict points and allowing unrestricted turning movements. This is accomplished by reconfiguring the traffic lanes to allow for direct access to highway on-ramps in all four directions."
There are currently only two DDIs in use in Canada: in Regina and Calgary.
Additional work within the project scope includes the installation of traffic lights to control traffic flow as vehicles move from the right side of the road to the left, and dedicated right-turn lanes located before the traffic signals to provide highway access again without requiring vehicles to cross oncoming lanes.
The project also calls for construction of a new commuter carpool lot at the northwest quadrant of the interchange, a new loop ramp and connection road from Glendale Ave. to the York Rd./Airport Rd. intersection, and a single-lane roundabout at the Glendale Ave./York Rd. intersection.
Funding for the project is being shared by the provincial government, Niagara Region and the Town of Niagara-on-the-Lake.