Buttcon starts work on hospital expansion
Posted on May 18, 2021
Construction is underway on the largest research expansion in the history of the Holland Bloorview Kids Rehabilitation Hospital.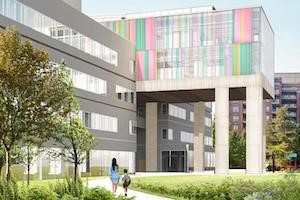 Construction manager Buttcon Ltd. is leading the construction of the Bloorview Research Institute (BRI). The two-storey 11,000-square foot addition at the East York facility will create critical space for new discovery hubs as well as additional research space. It is the third and final phase of a $32-million project to expand the BRI, which focuses on childhood disability research.
The facility has been designed by Toronto's Gow Hastings Architects.
"The renovation unites different research disciplines into one open and accessible work environment, showcased through a three-storey internal courtyard," says Philip Hastings, partner at Gow Hastings Architects. "The colourful and elevated two-storey addition expands the research space towards the ravine, raising the profile of the hospital within the community."
In addition to private and team working spaces, the expansion will feature collaborative discovery hubs—interdisciplinary work areas that support research in critical areas including machine learning, music and arts, neuromodulation and rapid prototyping.
The building's sustainable features will include solar-shading devices to reduce thermal gain, minimizing excavation and impact on the landscape, maximizing the amount of landscaped outdoor space, and whenever possible, using natural materials with a low energy footprint.
Accessible design features have also been incorporated, including extra wide doors and hallways, door-operating devices along busy pathways, colour contrast between walls, floors and doors to assist with navigation for the visually impaired, and height-adjustable desks in work spaces.
Previous phases of the project involved the installation of a fully accessible playground on the west side of the hospital.
The second phase of the expansion includes renovations to 17,000 square feet of research space on the hospital's fourth floor to create a modern work environment with fewer hallways and walls.
The addition has been designed to be fully pandemic ready, and construction is expected to be completed by summer 2022.