Link2Build webinar panelists talk adjudication
Posted on November 05, 2021
Adjudication provisions introduced in Ontario's new Construction Act promise a series of benefits for construction projects, but after two years of implementation, their take-up has been slow.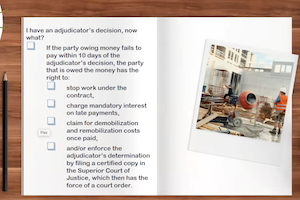 Panelists on an October 27 Link2Build webinar entitled Adjudication - It's Not as Complicated as You Think! discussed the processes and opportunities around the province's new adjudication system, and offered their advice to contractors who may one day have to use the process.
Participating were Edward Dreyer, a partner with Kitchener's Madorin Snyder LLP, and the chair of the Grand Valley Construction Association; Dan Leduc, a partner with Norton Rose Fulbright in Ottawa, and a member of the Ottawa Construction Association's board of directors; and Elise Teitler, the project manager with the Ontario Dispute Adjudication for Construction Contracts (ODACC), the entity that oversees Ontario's adjudication system.
Ontario's adjudication system officially launched with the coming into effect of provisions in the province's new Construction Act in October 2019. The system allows for parties to enter into a process to resolve disputes on a construction project. Unlike litigation or even arbitration or mediation, adjudication generally leads to decision in 35 to 45 days. It is typically inexpensive, and it allows the construction project to continue without disruption.
In adjudication, parties with a third-party adjudicator who hears evidence from both sides, and is mandated to render a decision on the matter within 35 to 45 days. More complex matters can be extended out to longer periods of time, but the intent of the process is to render judgment on disputed issues while the construction project is ongoing, rather than at the end of the job. The adjudicator's decision cannot be appealed and is as enforceable as a court order.
"The most important benefit of adjudication is that is leads to a very quick resolution of disputes," said Teitler. "With decisions forthcoming in 35 or 45 days, adjudication is a good alternative to arbitration, and certainly to litigation when you consider the backlog of cases before the courts that existed before the COVID-19 pandemic, and which has worsened since."
The other benefit of the process compared with litigation is that an adjudicator has the latitude to be more exploratory—to ask questions and request additional evidence from parties—in his or her work. That's not the case with traditional litigation.
What's surprising, Dryer indicated, is that with all the benefits offered by adjudication, use of the process to date has been slow.
To date, ODACC has seen over 100 cases submitted for adjudication. Some have been commenced for disputes as small as $1,000, and some for as much as $3 million. (There is no maximum threshold for disputes to reach adjudication.)
In the earliest days of the process, Teitler explained, many of the cases before ODACC were terminated because they did not fall within the transition period described in the Construction Act. That volume of terminations has slowed, she reported, and the adjudication process has realized just over 45 decisions, with about half of those coming from parties in the residential sector.
Indeed, the timing of the transition from previous legislation to the new Construction Act has caused confusion, the panelists reported. Leduc explained that any contracts entered into prior to October 1, 2019 have no provisions for prompt payment or adjudication. Similarly, prime contracts where procurement began before October 1, 2019 are also not eligible for prompt payment or adjudication, even if the prime contract or any sub-contracts were signed on or after that date.
"It's hard for a subcontractor to know when an owner may have initiated the procurement process for your project," Leduc said. "If I were a subcontractor, I would make sure to ask that question during the tender process when seeking clarifications."
Leduc also advised that it is impossible for any party to contract out of their prompt payment or adjudication rights. Sections 4 and 5 of the Construction Act are clear on that point. If you try to contract out, that part of the contract is void, and that rule applies to all construction contracts in Ontario—except those run by the federal government or which fall under the old rules.
Dreyer asked what other reasons—beyond the date and transition periods of the act—may be accounting for such a low case count at ODACC.
Teitler said she believes that a lot of people in the industry simply do not know adjudication is available to them. They might not understand that it's available, or why it could be a far preferable option to other forms of dispute resolution.
Leduc added that some people believe that the process may be expensive or that it requires the advice or assistance of a lawyer.
Actually, adjudication can be quite affordable. At the outset of the process, parties are asked to negotiate a fee for the service, the cost of which is shared. If they cannot do so, ODACC maintains a schedule of fees that scale with the dollar value attached to the dispute. ODACC's schedule of fees starts at as little as $800 for disputes valued at less than $10,000 and as high as $750 per hour for disputes valued at more than $1 million.
Parties will also be asked to select an adjudicator for their hearing. They have as many as four days to do so, and if they are unable to agree on an adjudicator, either party may ask ODACC to appoint one from its registry.
Adjudication can also be as simple or as involved as parties wish. ODACC has created a series of pre-designed processes to help parties choose the level of intervention required. These can vary from submitting and receiving short written submissions and determinations via email to written and oral presentations, and even site visits, should they be required. And in no case do any of the processes require legal representation.
The Construction Act allows for a series of types of disputes to be resolved through adjudication, including those relating to the value of services and materials, such as change orders; payment and disputed change orders; non-payment and prompt payment; amounts retained for set-offs (back charges); payment of holdbacks; non-payment of holdbacks; and any other matter that the parties agree to.
The panelists concluded with an overview of the process of launching an adjudication claim, and advised contractors familiarize themselves with the processes for starting a claim and responding to a claim, as described on the ODACC website.