First Nations start process to build Ring of Fire road
Posted on April 18, 2022
Two Ontario First Nations have begun the process of constructing an all-season road that, if built, would provide year-round access to mining sites in the province's Ring of Fire.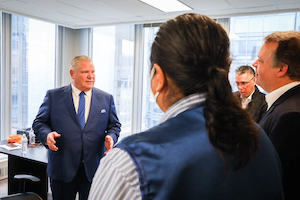 Marten Falls and Webequie First Nations announced on April 14 that they will submit a Terms of Reference for the proposed Northern Road Link Environmental Assessment. The road is the final piece of critical road infrastructure needed to fully open access to site within the Ring of Fire, and to connect both First Nations communities to the provincial highway network.
Premier Doug Ford was on hand at the announcement, and called the occasion, "a landmark day."
"Our government is connecting industries, resources and workers in the north to the auto and EV battery manufacturers in the south so we can unlock the full economic potential of northern Ontario," he said.
Marten Falls and Webequie First Nations are co-leading the planning of the project with support from the province. The government has committed close to $1 billion to support critical legacy infrastructure such as the planning and construction of an all‑season road network, and investments in high-speed internet, road upgrades and other community supports.
"Our government is committed to partnerships with First Nations communities to build legacy infrastructure projects that will become the Corridor to Prosperity," said Northern Development Minister Greg Rickford. "Marten Falls and Webequie First Nations are leading the Environmental Assessments because they share a strong vision for sustainable development and prosperity for their communities."
The Ring of Fire region is one of the most promising mineral development opportunities for critical minerals in the province. It is located approximately 500 kilometres northeast of Thunder Bay and covers about 5,000 square kilometres.
The region has multi-generational potential for critical minerals production including chromite, nickel, copper and platinum, valued at anywhere from $30 billion to $60 billion – money that could help create unprecedented economic prosperity across the Far North.
"Our partnership sets a new precedence in the region on Indigenous proponency," said Chief Bruce Achneepineskum of the Marten Falls First Nation. "As we prepare to submit the Terms of Reference for the Northern Road Link project it is important to remember why we are here and what this represents. We are leading the Northern Road Link because the project is in our traditional territory and we are exercising our right to self-determination. This represents a potentially bright future for our future generations, for our neighbours, and for the region."