TCHC retrofit targets deep energy reductions
Posted on July 04, 2022
Toronto Community Housing Corporation (TCHC) is about to launch an ambitious retrofit of one of its downtown properties with a view to significantly reducing its carbon output.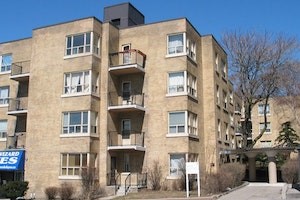 With the support of The Atmospheric Fund (TAF), a regional agency that invests in carbon-reduction renovations in the GTA, TCHC plans to implement a series of retrofits at its building on 840 Eglinton Avenue West. Projected savings include a 70 percent reduction in energy use and an 85 percent reduction in carbon intensity.
The retrofit of the nearly 80-year-old building is the most ambitious project undertaken by TCHC or TAF to date. Through planned building envelope upgrades and a switch to high-efficiency electric heat pumps, the project aims to improve resident health and comfort. It is also expected to garner at least $52,000 in annual utility savings, and 196 job years of local employment, establishing a model for other deep retrofits of similar buildings in TCHC's portfolio and beyond that can be easily replicated.
The project also supports a variety of community priorities, including more affordable housing, stimulating local economic activity and increased resilience, and helping the City of Toronto meet its net-zero emissions target by 2040.
"About 61 percent of Toronto's carbon emissions are from buildings and TCHC is Canada's largest housing provider with 1,900 buildings in its portfolio," said Toronto Mayor John Tory. "This project is blazing a trail for other housing providers, putting the City of Toronto in a position to begin replicating and scaling projects like this so that we can take strides towards reaching out net-zero emissions targets by 2040."
Funding for the project is provided by Natural Resources Canada's Green Infrastructure Fund ($1.8 million) and TCHC ($5 million). In addition, TAF's Retrofit Accelerator is supporting retrofit planning and implementation, including assembling project financing and overseeing the project's carbon and social outcomes of the project.
"Retrofitting and electrifying all of Toronto's multi-family buildings is key to reaching our climate targets, helps to ensure more affordable housing, and boosts local economic activity," said TAF CEO Julia Langer. "But accelerating deep retrofits to meet these critical needs requires coordinated access to technologies, expert services, and financing—and a focus on outcomes. TAF's Retrofit Accelerator collaboration with TCHC can be a model for all housing providers in the region and beyond."
Toronto Community Housing is Canada's largest social housing provider. It provides homes to nearly 60,000 households with low and moderate incomes in neighbourhoods across the city.