Jamie McMillan to deliver CIQS keynote
Posted on June 01, 2022
Ironworker and construction careers advocate Jamie McMillan will deliver the keynote address at the 2022 Canadian Institute of Quantity Surveyors' congress in Ottawa later this month.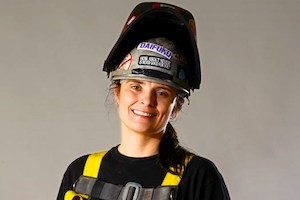 McMillan is the co-founder of KickAss Careers. She and partner Pat Williams launched the group in 2014 a school and community outreach program to promote skilled trades to young men and women.
"There is a huge shortage of skilled trades workers," McMillan says. "The shortage has been caused by, in addition to the number of people retiring, the failure of many schools to promote the skilled trades to students."
McMillan became an ironworker in 2002, and has since worked on construction sites across the country. After founding KickAss Careers, she divides her time between practicing her trade in the field and traveling throughout North America providing keynote presentations and workshops to students, parents, educators, and employers.
For her work promoting the skilled trades to today's youth, she has won the Top 20 under 40 Award, the Ontario Youth Apprenticeship Program Champion Award, the District School Board of Niagara Technology Education Partnership Award, and the Hamilton YWCA Women of Distinction Award.
McMillan is also the co‐founder of the Workplace Equality Awareness Ribbon Campaign, a member of the YWCA Equitable Pathways Advisory Committee, co‐author of a colouring book series titled "All the kids on Builder Street", and she was co‐chair of the National Skilled Trades Advisory Committee for the Canadian Federal Government, an initiative to design a campaign promoting skilled trades as a career choice for youth.
Her address to the CIQS Congress will focus on the quantity surveying profession and how the current labour shortages are affecting this area of the construction industry.
CIQS is a self-regulatory, professional body engaged in protecting the ethics and standards for construction and infrastructure economics in Canada. Its membership includes designated Professional Quantity Surveyors (PQS) and Construction Estimator Certified (CEC) professionals who counsel building owners, developers, government bodies, designers and contractors at every stage of the design, procurement and construction process to help ensure a return on investment is delivered.
The CIQS Congress 2022 is scheduled for June 16 to 18 at Ottawa's Westin Hotel.