Newmont nears completion of $160M water treatment plant at Porcupine mine
Posted on November 29, 2022
Gold producer Newmont has announced that construction of a water-treatment plant at its Porcupine mine in Timmins is almost complete.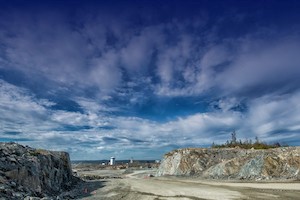 The Denver-based company hosted Ontario Premier Doug Ford a variety of cabinet ministers at the milestone announcement on November 18.
Over the last two years, Newmont has made a $160-million investment into the new plant, which will benefit the entire ecosystem and surrounding watershed through the collection, treatment and return of impacted water. The plant is expected to will have among the lowest effluent discharge limits within the mining sector.
"This investment from Newmont is a huge vote of confidence in Timmins, our workers and the future of Northern Ontario," said Ford. "We are grateful that Newmont has chosen to deepen its commitment to Ontario, and we look forward to seeing them thrive right here in Timmins."
Newmont anticipates that construction of the plant will be completed before year end and begin discharging in 2023; once operational, it will return up to 13 million cubic meters of treated clean water to the Mattagami, Frederickhouse and Upper Kapuskasing watersheds.
"Investments like the new water treatment plant that we are announcing today are only made possible by the steadfast commitments of our employees, all levels of government and our Indigenous communities and partners," said Newmount Porcupine's general manager, Dawid Pretorius. "I would like to thank all involved for their dedication to upholding our reputation as an industry leader in safe, sustainable and responsible mining."
Since 1910, Northern Ontario's Porcupine mining district has produced more than 67 million ounces of gold. The modern Porcupine mine is the largest employer in Timmins, with more than 1200 employees and contractors.