Canada, Ontario, investing in largest battery storage facility in Six Nations
Posted on February 13, 2023
OHSWEKEN, Ont. — Ontario and the federal government are investing in a project they say will be the country's largest battery storage project in Six Nations of the Grand River.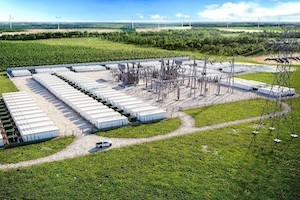 Deputy Prime Minister Chrystia Freeland says Ottawa is investing $50 million more into the Oneida Energy storage project in Ohsweken, Ont.
Premier Doug Ford says the province has directed the Independent Electricity System Operator to enter into a 20-year deal with the project as part of its push for more clean energy supply.
Ford says the project will draw and store electricity off-peak when power demand is low and return it when demand increases.
The premier says the project will begin operating in 2025 and will more than double the amount of clean energy storage.
Six Nations says they have invested in the project, which will provide economic returns and 97 per cent of the construction workforce to build it.
(C) The Canadian Press