Stay cable installation begins at Gordie Howe bridge project
Posted on January 31, 2023
The team building the Gordie Howe International Bridge has launched into a new phase of construction work.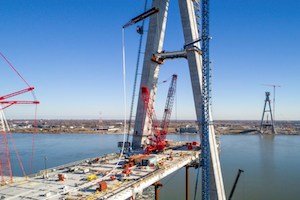 The group has begun installation of the 216 stay cables that will connect the towers to the bridge and road deck. The first of the cables was installed on the US side of the bridge over the week of January 16.
"With each new stage of construction, the distinctive design of this cable-stayed bridge takes shape," said Grant Hilbers, Vice-President of Engineering, Windsor-Detroit Bridge Authority. "As the stay cables are installed, the Gordie Howe International Bridge's inspiring, modern and elegant features will become more visible for residents of Windsor and Detroit."  
A stay cable is comprised of rope-like metal strands housed in a pipe. The installation process for each pair of stay cables will take between two and five days. The ends of each metal strand inside the pipe are stressed and anchored to two points – an anchor box inside the tower and an edge girder on the deck. Once a pair of stay cables is securely anchored, the workers will move on the next pair in a sequential manner.  
Between 38 and 122 metal strands of cable will be fed inside a weather-resistant, high-density polyethylene plastic pipe to make up each stay cable. More than 16,000 metal strands will be used.
The cables serve two purposes in a cable-stayed bridge design. They deliver the weight of the entire structure to the tower and, through tension, maintain the bridge deck's stability and placement.
The towers and stay cables of the Gordie Howe International Bridge will be capable of supporting nearly 34 million pounds of weight.
If laid end-to-end, the metal strands would measure approximately 5,000 kilometres in length. That is the same distance as a round-trip from Windsor, Ontario, to Salt Lake City, Utah.
"The first stay cable installations are a significant achievement for the Gordie Howe International Bridge project," said Michael Hatchell, CEO, Bridging North America. "We have been able to reach this point in the project safely and efficiently and we are extremely pleased with the work of our team." 
Once complete, the Gordie Howe International Bridge will be the longest cable-stayed bridge in North America and the tenth longest in the world.