Ontario's labour market records 338,000 job gains in 2022
Posted on March 24, 2023
A new report issued by the Financial Accountability Office of Ontario (FAO) confirms that the province's employment market is red hot.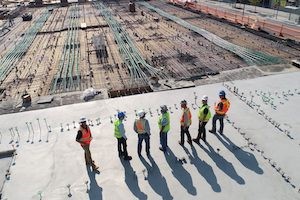 The province saw the creation of more than 338,000 jobs last year. When combined with the rise in 2021, this marks the strongest two-year period of job gains on record. The annual unemployment rate in the province dropped to 5.6%, the same as the pre-pandemic rate observed in 2019.
Gains were broad-based across all major age groups and genders, and concentrated in full-time, private sector positions. The share of the core-aged population (i.e., those aged between 25 and 54) that was employed reached a record of 83.9% in 2022, with the rate for females climbing to an all-time high. Young workers (aged 15 to 24 years) recorded an 8.4% rise in employment, the strongest pace of job growth compared to other major age groups.
Self-employment increased modestly following two years of decline – this weakness may reflect record job openings in paid employment as well as a shift in people's willingness to pursue self-employment.
Nearly all major industry groups saw employment gains. Professional, scientific and technical services recorded the largest job gains for the second consecutive year.
Despite strong job creation, the Ontario labour market continues to face challenges. Hiring difficulties persisted with a record 36.3% of job vacancies remaining unfilled for 90 days or more. At the same time, a record number of employees were absent from work due to illness or disability.
Of the province's 16 major industries, 15 saw increases in employment in 2022.
Professional, scientific and technical services recorded the largest increase in employment (51,000, or 6.8%) for the second consecutive year. Construction employment rose by 49,300 (or 9.2%). Health care and social assistance, one of the largest sources of employment in Ontario, saw job growth of 34,400 (3.8%) in 2022. Other services recorded a decline in employment of -5,600 (-2.2%) in 2022, marking the third year of persistent job loss.
Five industries operated with fewer employees in 2022 compared to before the pandemic: accommodation and food services, business, building and support services, agriculture, and transportation and warehousing.
With the CPI inflation rate reaching a 40-year high of 6.8% in 2022, workers continued to see their real wages decline. The average hourly wage rate in Ontario increased 4.2% in 2022, trailing inflation for the second consecutive year.
All census metropolitan areas in Ontario saw increases in employment in 2022.
Belleville (14.8%), St. Catharines-Niagara (11.5%), and Kingston (8.1%) had the fastest pace of job creation. In contrast, Thunder Bay (1.3%), Hamilton (2.2%), and Kitchener-Cambridge-Waterloo (3.3%) experienced relatively slow rates of employment growth.
Despite seeing job growth in 2022, both the major cities in northern Ontario remained below the pre-pandemic level of employment. Total employment in Greater Sudbury remained 2.2% below the pre-pandemic 2019 level while Thunder Bay remained 2.1% below. Employment in Brantford was 1.3% below the pre-pandemic 2019 level.
All major cities saw their unemployment rate decline in 2022. Across the major cities, the highest unemployment rates in 2022 were recorded in Windsor (7.7%) and Toronto (6.4%). Belleville had the lowest unemployment rate at 3.7% in 2022.