Province, feds commit more than $100 million to HSA projects
Posted on March 07, 2023
The federal and provincial governments have announced combined funding of more than $100 million to deliver internet access to more nearly 20,000 Ontario homes.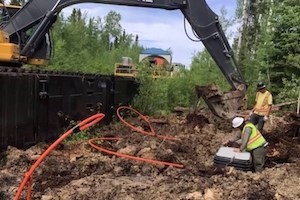 On March 3, the governments announced a combined $61 million in funding for six projects being run by Bell Canada, the Northwestern Ontario Innovation Centre and Keewaytinook Okimakanak.
The funding will bring high-speed internet access to more than 16,000 homes in 47 rural Ontario communities and three First Nations communities in Northern Ontario. Among the affected communities are Pickle Lake, Nipissing, North Bay, Ignace and Kakabeka Falls.
"K-Net is pleased to partner with Lac Seul through this project by building on its community-owned infrastructure to upgrade broadband access throughout the First Nation," said Jesse Fiddler, Director, Keewaytinook Okimakanak.
In an earlier announcement on March 2, the governments committed more than $48 million to a project being run by YorkNet to bring high-speed internet access to over 3,800 homes in 31 communities.
YorkNet is a corporation owned by the Regional Municipality of York.
Among those benefitting from the funding are Aurora, King City, Markham, and Vaughan.
"Through our own dark-fibre network, operated and managed by YorkNet, we are building an affordable, reliable and sustainable network across York Region that also supports our regional operations," said York Region Chair and CEO, Wayne Emmerson. "These generous contributions will help the region expand its network and target thousands of underserved homes by 2025."
Both funding announcements fall under a partnership between the governments of Ontario and Canada.
Announced in 2021, the partnership enables large-scale, fibre-based projects that will provide high-speed internet access to more than 280,000 rural and remote households across the province.
The federal government aims to ensure 98 percent of Canadians have access to high-speed internet by 2026, and 100 per cent by 2030. The province's goal is to provide reliable high-speed internet access to every community by the end of 2025.