Whitby council approves sports complex design
Posted on March 16, 2023
Whitby Town Council has approved the final design concept for a new sports complex to be located on Baldwin Street.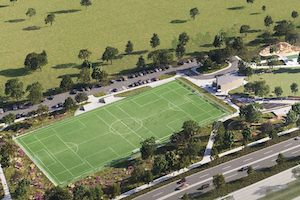 The town announced the news on March 7.
Construction on the new facility is expected to begin this summer, with the complex anticipated to open in fall 2025.
The concept design was developed based on feedback collected from more than 2,700 people last spring – one of the town's largest community engagements to date.
Amenities proposed as part of the facility include:
an aquatic centre with a 10-lane pool, separate leisure pool and second floor spectator viewing area
a double gymnasium, with three-lane indoor walking track;
a twin-pad arena with 85' by 190' ice pads;
flexible spaces to support community programs, meetings, and arts and cultural activities; and,
space for outdoor recreational opportunities – such as a pump track and skateboard park; pickleball, tennis and basketball courts; multi-use sports field; and playground and water play area.
The new complex will be located on the west side of Baldwin Street South, south of the intersection of Highway 407.
"I am very pleased that council has approved the final design for the Whitby Sports Complex, which allows this project to take another step forward. We know that recreation is so important to our residents," said Mayor Elizabeth Roy. "During the 2023 budget consultation, enhanced indoor and outdoor facilities was one of the top three priorities identified by the community. Public consultation played a big role in the design of this complex – and now there is the opportunity for residents to weigh in on the proposed design for the outdoor park space to support it."
The town says it will explore a variety of environmental sustainability initiatives during the design process for the complex including the Leadership in Energy and Environmental Design Gold and Zero Carbon Building certifications.