WSIB opens applications for small business awards
Posted on May 16, 2023
The Workplace Safety and Insurance Board (WSIB) is now accepting applications for its 2023 Small Business Health and Safety Leadership Awards.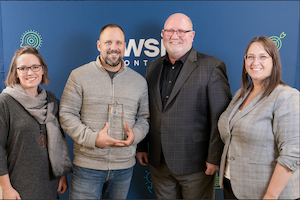 The annual awards pay tribute to the health and safety achievements of independently-owned and operated businesses with fewer than 50 employees.
The top prize is worth $10,000. Second place is worth $6,000 and third place $4,000.
Submissions are due by May 19.
To be eligible for the awards, businesses must be registered in good standing with the WSIB, and it may not have any convictions under the Workplace Safety and Insurance Act, fatalities in the workplace, or convictions by the Ministry of Labour, Immigration, Training and Skills Development for violations under the Occupational Health and Safety Act or the Employment Standards Act. Additionally, past winners are not eligible to re-apply for five years.
WSIB announced its 2022 winners at its Small Business Health and Safety Forum on January 26.
Winning gold was Kitchener's Just Working Construction Inc. (pictured above). The silver prize went to Sudbury's Northern Equipment Rentals and the bronze to Diamond Tree Care & Consulting Inc. of Georgetown.